John the Archer – Outreach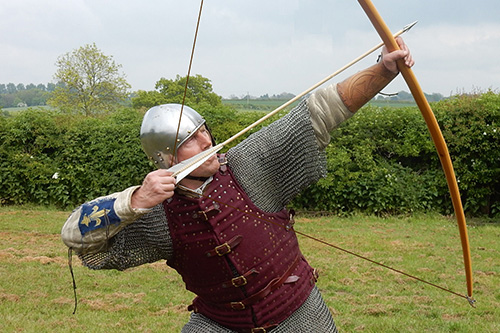 Meet Master John who explains the make-up of medieval bows and arrows and the role of the archer on the battlefield. Discover how often archers had to train, how effective the bodkin arrow was against armour and where an archer kept his spare bow string.
*We have made some small changes to keep the pupils, adults and the facilitators safe. But despite these changes, the facilitators will still be delivering an engaging and informative session for the pupils to support their learning in the classroom.
Key Stage 1-5: History, English & SMSC
Duration: Talk to our booking team to discuss whether you would like a 1 hour session, half-day or full day
Cost: £4 per student per hour
National Curriculum Links:
Events beyond living memory that are significant nationally or globally and lives of significant individuals
Significant historical events, people and places in their own locality – a local history study
Extending pupils' chronological knowledge beyond 1066
The development of church, state and society in medieval Britain 1066-1509: the Wars of the Roses
Pupils to listen and respond appropriately to adults and their peers, ask relevant questions and justify answers, arguments and opinions